On August 10th the Virtual Athletics League (VAL) announced that they would be coordinating and hosting one of the largest VR events in history, focused on something very important to us at VirZOOM: VR Fitness.    
With over 40 studios and a total prize pool of more than $25,000 it will be a defining moment for fitness in Virtual Reality. In addition to all of the tournaments, there will also be a variety of panels and talks ranging in topics from Creating New Sports Through VR to Fitness Communities in VR.  Finally, to top the event off there will be a TribeXR after party and celebration where the tournament winners will be announced.
The VZfit Tournament
When designing our tournament we decided to focus on helping people form healthy habits. Our goal with VZfit is not to create super athletes, but to encourage a healthy amount of exercise on a regular basis. To support this, we created 7 Explorer rides that span about 300 miles of riding, and are providing a raffle entry for each day that participants ride at least 10 minutes.
We chose to focus on Explorer rides for this tournament to help people feel a sense of travel and adventure at a time when it is difficult to do that. Our hope is that by the time this tournament is over, riders will feel like they have traveled the world, and have established a routine of doing a light workout each day.
We also wanted to make sure that all of our members would be motivated to ride daily, so we will be making one of the VR Fitness Summit Rides our free ride for the duration of the tournament. This means that anyone with a Quest and a bike or elliptical can get a low-cost cadence sensor on Amazon and participate without a premium membership. 
We are always blown away by the stories our riders share about personal growth and change from their experience with VZfit and we are excited to hear how this tournament inspires them to become healthier. 
The Adventure Pack
The 7 rides that were created for this pack span the globe and offer a wide variety of length, setting, and route type; Cities, Mountains, Desert, Coastal, and even Jungles. There is something for every type of Explorer.
Badwater – Death Valley USA 143 Miles
The Badwater 135 is often referred to as "The World's Toughest Foot Race" and takes place in one of the hottest places on Earth; Death Valley. While we couldn't ride the entire race route, we did our best to capture the spirit of the event. It is the longest route of the adventure pack and a true challenge to finish during the time window.
The Great Dolomites Road – Italy 61 Miles
This breathtaking tour through the mountains of northeastern Italy offers an unparalleled cycling experience.  This route travels through several peaks and transitions from grass to snow, as you ride. Be ready for a lot of varying terrain, with many climbs and descents, with very little flat!
Death Road – Bolivia 9 Miles
This ride takes you on parts of the Old Yungas Road in La Paz, Bolivia. This road was built in 1930 and due to the nature of its narrow single track, fog, and steep slopes, was considered one of the most dangerous roads in the world. A newer road has been built in recent years to allow for a safer place to drive, but the old road is still a favorite of visiting cyclists.
Budapest River Front – Hungary 11 Miles
The Danube River, which runs right through the center of Budapest, is a UNESCO World Heritage Site and this tour will take you up and down it's banks.
Starting on a small walking path you make your way up river and can see a full view of the Hungarian Parliament building as you approach the bridge to cross.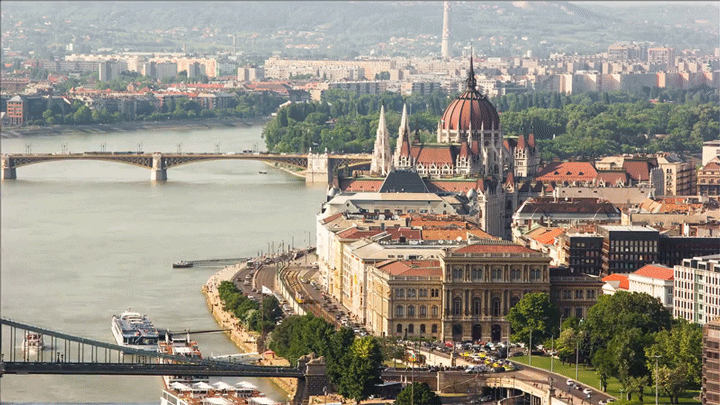 Once on the east bank, you will make your way down for a close-up view of the Parliament building before ending directly across the river from our start.
The Hungarian Parliament building is the star of this ride and is an incredible architectural feat. Construction began in 1885 and took nearly 100,000 people, 40 million bricks and 40 kgs of gold to build, with it finally being completed in 1904.
Ronda is a city built on a mountain top in Spain that has several features that make it a great tour in Explorer.  The city is built over a giant gorge with several bridges attaching the parts of town.  The most famous of these is Puente Nuevo, completed in 1793, and provides an iconic image that draws tourists from around the world.
The city is also full of old Spanish castles and forts mixed among the newer buildings. Ronda is home to the oldest bullfighting ring in all of Spain and you will ride right by it!
Shimanami Kaido – Japan 48 Miles
This is the common name for the Honshu-Shikoku Bridge Expressway connecting Onomichi and Imabari. Along the way this route travels across several of the smaller islands in Japan.  With great views of both the coastal areas of Japan, as well as some small towns, it's a great taste of the country.
If you enjoy this area be sure to come back and do some open riding to some of the shrines and other features. Find out more here.
Bealach na Ba- Scotland 54 Miles
A winding single track road through the Scottish Highlands, this route is considered the Holy Grail of climbs.  You will start at sea level and work your way up to an elevation of 2000 feet, with road grades that approach 20%, then back down to sea level on the other end.  
This is a great ride for those who enjoy switchbacks and beautiful views.
There are multiple ways that you can gain raffle entries. 
Daily
+1 Entry
Ride any VRFS ride for at least 10 Min per day 
+2 Entries
Share a Snapshot via Twitter or Facebook tag Virtual Athletics League with #vrfitsummit + #vzfit, must include VZfit username in Post 
Share Video via Twitter or Facebook tag Virtual Athletics League with #vrfitsummit + #vzfit, must include VZfit username in Post
One Time
+6 Entries
Completing any of the VRFS rides the first time
+53 Entries
Complete all of the VRFS rides
---
For a complete list of rules and to sign up for the tournament check out our tournament page on the VRFitness Summit website.